Was your eBay account suspended? Get it back today and learn to create eBay stealth accounts. 
It's been his most profitable month so far.
Bill just hit his first $100k in revenue last April, and he is only two months into being a full-time eBay seller.
Everything is moving pretty fast; Bill is rocking it on eBay.
Maybe Mike's strategy was right after all.
Bill barely made $2k in sales in March, but here we are; in his second month, April, he's just ranked in $100k.
Maybe the goddess of eCommerce is smiling at him, or perhaps he's hitting the right buttons.
Well, everything was working out fine until he received an email from eBay.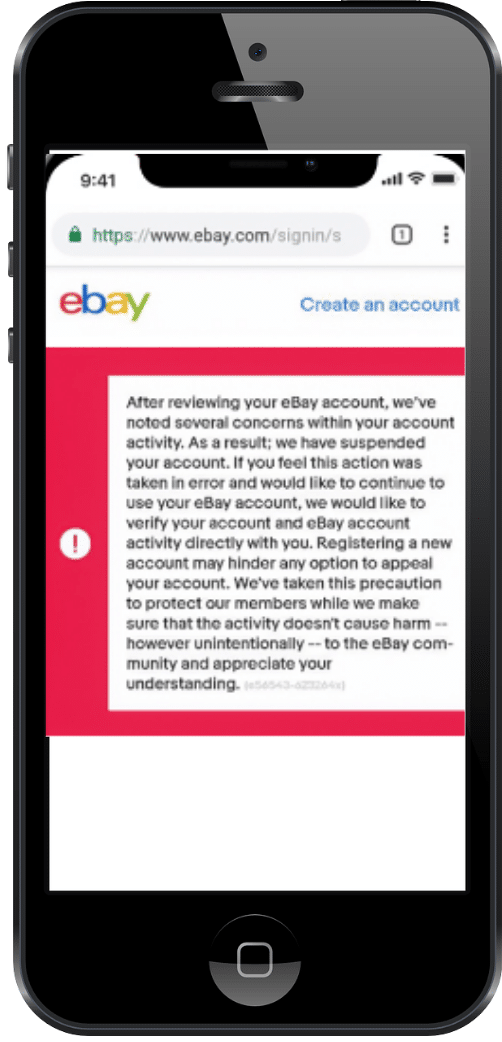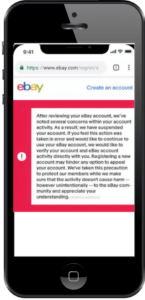 It's an unfamiliar email. His account has been suspended, and he's got no clue what to do next.
Mike, his friend, experienced the same thing. This time, Mike was of no help as he could not also get himself out of the situation.
You've probably had the same experience if you're an eBay seller.
Your eBay account is suspended, and nothing seems to be working.
Selling online with eBay is pretty cool. All you need is an active internet connection and excellent products to market. You must also spice up your online presence with unique product images.
Yep! It's pretty simple. If you can click and drop, you can make money with eBay.
With over 180 million active users, you're sure to get enough customers, make a sale, and smile at the bank by the end of the month.
Yes, it's all juicy, but there's a flip side: your account can get suspended anytime without notice.
You won't see it coming!
It isn't perfect! Isn't it?
Well, that's how things work in the eBay world. And if you're an eBay seller, you must be prepared for some uncertainty.
Before painting eBay all bad and dirty, you've got to understand a couple of things.
eBay is an online marketplace. Just like other online marketplaces like Amazon, eBay has its rules. And these rules are designed to regulate the activities of sellers/buyers on the platform.
Sellers have to abide by these rules. You'd risk an account ban, suspension, or restriction if not.
Speaking of account bans, some folks mix up these terms: ban, suspension, and restriction.
Here's what you've got to know about these limitations and how you can safeguard yourself against these account limitations.
Holds, Restrictions, and Suspension — Here's What You Should Know
Not all eBay suspensions are the same. Some breaks are due to minor issues like late payments or expired payment information. However, others are due to more severe problems that may lead to a lifetime account ban.
Account Hold
Your account will be placed on hold when you have issues like expired payment information or lack of payment.
Account hold is a system that protects eBay from losing money in the marketplace.
Resolving this issue is relatively easy. All you must do is make payments or update the payment information.
Account Restriction
Account restriction is quite severe, and it's usually used to checkmate the standards of the eBay marketplace.
Think of it as a quality control system that the marketplace puts in place.
When online sellers don't meet eBay marketplace standards, they're placed under restrictions.
Account restrictions affect your shop's SEO by lowering the search ranking position. Also, an online seller may be restricted from selling certain items deemed illegal or unfit for the marketplace.
Account Suspension
Account suspension is pretty extreme. Accounts on eBay are suspended when the seller offers illegal products or products of no tangible value to the customer.
Why eBay Suspends Accounts
If you've received the dreaded email from eBay, all you've got to do is stay calm.
Yes, your emotions would get the best of you. But if you keep a cool head and try to figure out things, you'll likely see things more clearly.
First, eBay is an online marketplace, and guidelines govern the platform.
These policies protect the marketplace from fraudsters and folks who would love to game the system.
Here's the thing; eBay wants to protect its brand, and ill-willed folks are not suitable for business.
If you've received an email notification from eBay, you will notice that accounts are banned for several reasons, like…
Late shipping of orders
Late shipping gives rise to lots of issues on eBay.
Typically, buyers check the estimated product delivery date before buying. Therefore, if the estimated delivery date is seven days, you must deliver the package before the due date.
Why?
Because buyers are anxious by default, panic mode kicks in when the delivery date is missed. And in panic mode, they tend to leave negative feedback.
Negative feedback and complaints may seem relatively harmless on the surface, but on a closer look, this poor feedback reflects terrible performance, which will, in turn, lead to a poor seller metric.
Pretty bad! Right?
Ultimately, you'd risk an account suspension if you've got a significant number of bad feedback.
The solution is relatively straightforward — dispatch your products quickly.
Shipping the package two days after payment is not suitable for business. Products should be shipped within two hours of payment. And if you want to get your customers thrilled, go the extra mile by delivering the product before the due date.
Your customers would love you for it!
Payment issues
Here's a popular truth; eBay is in business to make a profit — and they want to cash in big!
Payment issues limit the possibility of boosting their bottom line.
Therefore, sellers with payment issues are usually penalized.
Payment issues are usually of three forms…
First, payment issues arise when a seller fails to pay eBay's fee.
Also, As a seller, when eBay refunds a buyer, you're expected to reimburse the funds. Failure to repay the funds would lead to account suspension.
Finally, all payment information should not be out of date. Out-of-date payment information would lead to real issues on the eBay marketplace.
Staying clear of payment issues on the platform is quite simple.
First, pay eBay's service fee on time. And it would be best to reimburse eBay for any refund made to your customers.
Lastly, your payment information should be up to date.
Transaction issues
Transaction issues mean lots of things. It could be mistakes like shipping damages or more substantial issues like deceit.
For instance, if you sell used items on the platform, you should mark them as used. In situations where you keep these items as "new," it would lead to lots of transaction issues.
Sellers can quickly get their accounts suspended when they overpromise and under-deliver on quality.
As a general rule of thumb, you should consistently deliver every time. Enough details should be stated in the product description — tricky sales tactics won't do you any good on the platform.
Hint: success on the eBay marketplace mostly depends on delivering on your customer's expectations.
If you're honest, you may not have many transaction issues. Provide adequate details of the product. If there are scratches on your product, let it reflect on the product description. All in all, deliver on your customer's expectations.
No tracking number uploads
Online shoppers want to get their products quickly. When a purchase is made on the eBay platform, eBay quickly shares the tracking details with the customer. This has a way of boosting customer satisfaction in the marketplace.
When a seller fails to upload the tracking details or uploads it late, eBay assumes that such sellers lack the technical expertise to manage an online business or that the seller uses shipping services that do not have tracking functionalities for their packages.
Here's the thing; late upload of the tracking number leads to a bad customer experience, resulting in a possible account suspension.
To eliminate the possibility of an account suspension, you've got to upload a product's tracking number as soon as possible. Ideally, it would be best if you did that a few hours after the product has been shipped.
Selling products off the platform
Selling off the platform is a massive turn-off on the eBay marketplace.
Sellers who sell off the platform run the risk of losing their accounts.
eBay is in the business of making money. To make money, you've got to sell on the forum.
Sometimes, buyers may want you to take the business off the platform. Don't give in to it — your account will get suspended.
What's more, you should only communicate with the messaging system. Using other communication channels outside the platform is prohibited and may get you suspended.
Buyers Conflict
Experiencing conflict with your buyer shouldn't be an issue. The problem arises when you fail to address it quickly.
Always aim to address issues with your customers — even when they are at the wrong end.
Make the customer happy at all times.
Listing banned products
Yes, it seems pretty basic, but some sellers list illegal items on eBay.
Listing banned products is a straight route to an account suspension.
The solution is quite simple — a good list of products. Items that customers want to buy and are willing to pay good money for.
One more thing…
Intellectual property theft is forbidden in the eBay marketplace.
Using the intellectual property of others, like product photos and descriptions, is a huge turn-off — and it may get you suspended on the platform.
Steps to un-suspend your eBay account
Some folks are pretty honest — they checked all boxes and may not have violated any eBay policies, yet their accounts are blocked.
There are a couple of things to do to un-suspend your account and get back to business.
If you're transparent in your business relationship with eBay, you should contact them to see how it goes.
Other reliable ways of un-suspending your eBay account include…
1. Know the reason for your eBay account suspension
First, you've got to know why your account got suspended.
eBay usually explains account suspension with an email. But most times, these emails are vague, with no tangible explanation.
You're most likely to come across the phrase "security concerns."
Well, you've got to think back to see where you made a mistake.
Did you use other communication channels?
Did you sell illegal items?
Think back on your actions and figure out where you've messed up.
2. Follow the instructions
The suspension email usually has some instructions on how to reinstate your account.
The suspension period may be seven, ten, or thirty days. Sometimes, you may be placed on an indefinite suspension.
If you've been suspended for a few days, you should wait.
During the suspension period, always be on the lookout for how to reinstate your account.
Try to figure out why the suspension is and work towards a long-lasting solution. This would help you prevent it from happening again.
For indefinite suspension, you may need to wait up to a year before you can take steps to get back your account.
More on it later.
If you've been pretty straightforward on the platform, and you've been suspended for no valid reason, then take action!
Online sellers who fall into this category are…
Folks who conduct transparent transactions on the platform but got suspended, and…
Sellers who were victims of fraudulent buyers were penalized for the crime.
It's important to note that suspensions are not always due to a one-off event. You must have had a bad record on the platform, with a couple of warning now and then.
Moreover, before reinstating your account, eBay may test your knowledge of its policies and guidelines. It's always done to ensure that the seller understands the procedures of the platform.
Here's the thing; you may be tempted to skip this procedure. After all, it's one of the ways eBay gathers information about you.
If you're a genuine seller, you have nothing to worry about. Trust the process and restore your account.
If you desire to be more profitable on eBay, you should aim to build a long-lasting relationship with the platform. And the best way to do that is by following the process and having faith in the forum.
3. Call eBay
When you've identified the reason for your account suspension and followed the necessary steps without getting any tangible results, the next step is to call eBay.
Yes, it's an uncomfortable step. But if you want to reinstate your account and return to business, placing a call to eBay is the way to go.
Before hopping on a phone call, you've got to have the following available.
Your user ID
Your email address associated with the eBay account
The case reference number
A copy of your account suspension email.
Aside from these documents, you've got to do your homework and prepare your argument.
Also, read through eBay's policies and identify statements that would be helpful in your unique situation.
There's nothing wrong with being prepared for the call. Right?
Furthermore, speak in a calm yet professional tone. You don't want to piss off the person on the other end of the line.
Pro tip: If you get matched with a lousy customer rep, end the call and call again — maybe you'd get a better match on your second (or third) call.
You can reach out to eBay's customer support at +1-866-540-3229.
Hint: Be honest during the call. Try to talk your way into the reinstatement of your account.
4. Open a new eBay stealth account
There are a couple of ways to do this.
First, you can opt for a used eBay account with good buyer metrics, high selling limits, and many positive reviews.
The benefit of using this route is you get an already-made eBay account — you won't start from scratch; all you have to do is log in and begin ranking in high sales.
Pretty cool! Right?
Conversely, the account is not registered with your name, email address, and home address.
If you're comfortable with it, then that's cool!
Another route is to have a close friend or loved one open an eBay account with their name, email address, and home address.
They'd open the email address on your behalf; then, you can log in and get your business going.
These two methods are pretty alright, but there is some significant risk.
If you want to make more money on eBay, you should opt for a reliable residential proxy service.
With a residential proxy service, you can access real residential IPs worldwide and create multiple accounts on eBay.
Can you reinstate your eBay account after eBay account suspended?
When you're suspended indefinitely, you've got a couple of options like…
Contact eBay and try to resolve the situation quickly — this is particularly relevant to eBay sellers who got suspended for doing nothing wrong.
If you've violated eBay's policy, you'd probably get a negative response from eBay. You'd often have to wait a year before reaching out again to them.
After a year, you should try to explain the "new" you and reestablish trust with the platform. You may be reinstated at this time.
Open a new account with a dedicated fresh VPN. Manage your online businesses with the VPN service, and live happily ever after.
All in all, whether you're a newbie or a veteran eBay seller and would not love to experience account suspensions like Bill and Mike, you should take your online business more seriously by using a dedicated fresh VPN.
A dedicated proxy is a sure way to freedom on eBay and, by extension, liberty in all online marketplaces.s