Our recent past and our present are full of scary cybercrimes. As the world is quickly migrating to a digital platform, criminals are also populating the web and performing identity thefts, hacking scandals, phishing incidents, ransomware attacks, and other obscure activities that terrorize "netizens" around the world.
Because of hackers and cybercriminals, people are more aware of the dangers of visiting the Internet without protection or encryption. That is why privacy and anonymity are so precious these days because they can make sure the odds of suffering one of the attacks above are considerably lower.
To gain extra protection, users are implementing several online tools. They can find proxies for free or via private companies on the web, and they can also make use of Virtual Private Networks (VPNs) and Smart DNS services.
What is a proxy?
A proxy is nothing more than an intermediary server between the user and a broader network, in this case, the Internet. The proxy acts as a filter, redirecting the content and the online identity of the customer or subscriber to protect him or her from hackers lurking around, governmental surveillance agencies, online advertisers, and websites implementing geographical blocking measures.
The Internet's best proxies are usually private companies that charge for their services. Free proxies are slow and generally insecure, as they can leak your IP address with relative frequency.
The IP (Internet Protocol) address is the Internet Service Provider. An assigned number to give each device its online identity. It is how people connect and interact with the World Wide Web. Most people are happy with their IP addresses being public, but the percentage of customers seeking privacy and anonymity is rapidly rising.
If people manage to hide their IP address, they will achieve satisfactory levels of privacy, anonymity, and even security, as hackers and other cybercriminals won't be able to track them online easily.
These services are compatible with virtually any device that allows proxy address and they have server benefits such as speed and the ability to unblock restricted international content. However, they can be insecure or unreliable since they can get you in contact with malware. Also, they are often not very straightforward to set up.
Types of Proxy:
HTTP Proxy

: unencrypted Internet connections.

HTTPS Proxy

: encrypted Internet sites and connections. These proxies are considerably safer than HTTP ones.

Web Proxy

: Activates a proxy server inside the web browser.

Forward Proxy

: They are intermediaries between the user and the Internet.

Reverse Proxy

: They are between the Internet and a small network or server group.

Transparent Proxy

: They don't require user setup and are perfect for content filtering in certain situations.
VPN vs. Proxies: Which one is better?
For a lot of reasons, you may be better off using a VPN. They are easier to set up than proxies, and they can also be found in online apps that may be free or paid. The former isn't trustworthy, while the latter has been gaining ground as one of the best ways to achieve the dreamed online trifecta: privacy, security, and anonymity.
Most VPNs usually perform their encryption activity at the system level and not on a per-app basis. That is why it only needs to be configured once: proxies can be a hassle because they require setup each time the user activates one.
The proxy can only manage shared online content that goes through the web browser implementing the proxy site, whereas a VPN is more of a security and privacy suite for the whole device to use, including apps, programs, and offline traffic.
VPNs are online encryption resources that are similar to proxies in the sense that they reroute traffic and the user's online identity to remote servers with the intention of protecting the customer from web-related threats. The difference is that VPNs use security protocols and measures that most proxies don't have to create a virtual tunnel for the aforementioned information to pass safely.
VPNs can also offer encryption and protection against hackers, intelligence agencies, and Internet Service Providers, as well as from law enforcement agencies and online stores looking to use your browsing data to make direct advertising. These apps can also help the user unblock streaming sites and web pages around the world, effectively bypassing geo-blocking restrictions.
IPBurger

: An excellent VPN option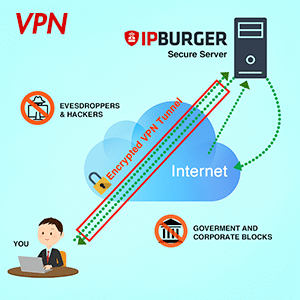 One of the best options for users looking for online safety and anonymous browsing is IPBurger VPN. It reunited the best proxies' features, as well as every VPN offering in one reliable package.
IPBurger VPN has servers spread around the world, and it implements robust encryption to protect people's privacy as no other VPN brand can. It offers both shared and dedicated IP address to fulfill every petition and request.
IPBurger is a perfect tool to unblock and access streaming platforms and multimedia libraries around the world from anywhere, with top-notch security offerings and concise and transparent privacy policy.
In conclusion, proxies and VPN apps are both excellent online security and anonymity resources that are prepared to fulfill privacy needs. However, VPNs are more versatile, secure, and easy to install and set up, and they work just as well.