Speed Test The fastest


Residential Proxies


On Earth
Join the #1 Award-Winning Proxy Network
Sign up and choose the plan that's right for you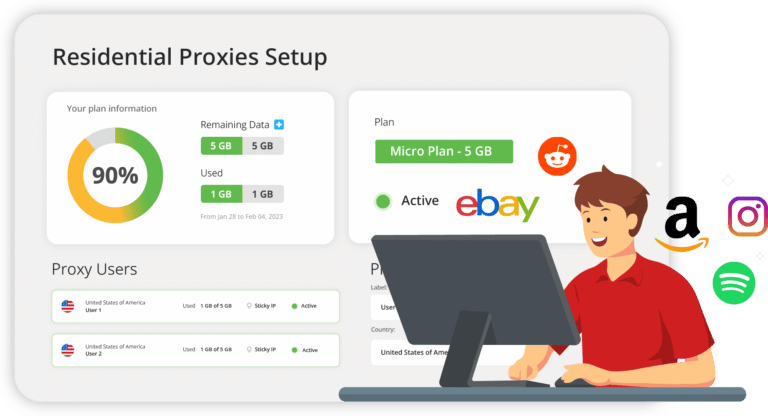 TRUSTED BY 26,000 USERS. FEATURED ON:
Residential Proxy Pricing​
Choose Your Plan & Get Started In Less Than 60 Seconds

Premium plans are best for account management and purchasing due to its larger IP pool, location and ISP selection. It also does well with web scraping and other use cases. Our Regular plans have a smaller IP pool as well as location and ISP selection. Regular plans are best for web scraping and other automated tasks. Choose the plan and features that work best for your usage.
Premium Plans
Regular Plans
Everything on Starter, and:
Accepted Payment Methods:
What to look at in a speed test
This speed test will measure your ping, download time, and upload time.
Speed tests measure your current connection's maximum speed – how fast your device can upload and download information – by accessing nearby test servers.
The test mimics your online activity in a controlled setting by downloading sample files and recording speeds. Speed tests won't show you your absolute internet speed, but they will show you a close approximation. It's a good practice to try multiple tests because the results can vary depending on your location and the time of day.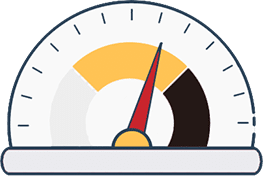 Ping and Latency
Ping is a network utility tool that is used to determine connectivity in a network measuring response (ping) in milliseconds (ms). The lower the better. Ping stands for Packet Internet Groper.
Beside determining connectivity, ping also measures how fast the connectivity between devices are (the quality of the connection).
This measurement is called Latency and measurements are usually in milliseconds(ms). The lower the latency/ping value, the faster the connection is, while a higher value indicates a slower connection in your speed test metrics.
Ping and latency don't measure speed, but the quality of a connection dating a speed test. Pings value is especially important for online game players who need a quick response from the server when playing, so they do not delay their action in a game.
A relatively fast ping can be considered if it is less than 40 ms and very good results is anything within the range 0 to 10 ms.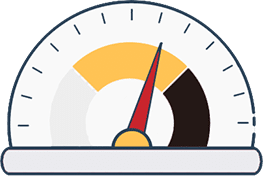 Which speed is actually my download speed during a speed test?
Download refers to activities such as streaming video, downloading files and browsing the web. For your purposes, this is the most important bit of data. It indicates how fast data is transferred from the VPN/server to you.
It's measured in megabits per second, usually displayed as Mb or Mbps on your speed test page. Crudely speaking, the higher the download result, the faster your speed is for downloading files and loading websites.
 Try not to confuse Mb with megabytes (MB), which is a measure of size rather than bandwidth. There's a certain amount of MB you can transfer in a certain amount of time depending on your connection speed.
For example, standard ADSL 17Mb internet equates to just over 2MB per second, while entry-level fibre optic 38Mb broadband allows downloads of 4.75MB per second, and rapid 100Mb broadband speeds mean downloads of 12.5MB per second.
| Broadband Download Speed | Typical Use |
| --- | --- |
| 0.5 Mbps (Mega bits per second) | If speeds are consistent they should be sufficient for audio streaming, email and very basic web browsing. |
| 1 Meg (Mbps) | Basic video streaming should work and standard web pages. |
| 2 Meg (Mbps) | Standard definition (SD) video from BBC iPlayer should be possible. |
| 5 Meg (Mbps) | Should allow High Definition (HD - 1080p) video streaming to run smoothly. |
| 8 Meg (Mbps) | Should be able to support video streaming and other activities at the same time without buffering. |
| 15 Meg (Mbps) | Connection will support a few video streams and other activity at the same time. |
| 25 Meg (Mbps) | Should be able to to stream pre-recorded Ultra HD video (UHD - 4k) smoothly. |
| 40 Meg (Mbps) | Should be able to to stream live Ultra HD video (UHD - 4k) smoothly. |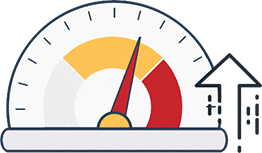 Upload speed
Upload refers to activities such as sharing photos on social media and storing files on cloud storage (e.g Dropbox, Google Drive). This is the opposite of download speed. It's the indication of how fast data is sent from your device to the server. 
This data comprises the request you make on the internet and other things you share such as files. Similar to download speed, it's also measured in Kilobits per second (Kbps)or megabits per second (Mbps). The higher the value, the faster the speed.
| Broadband Upload Speed | Typical Use |
| --- | --- |
| 0.1 Mbps (Mega bits per second) | Enough to send simple text emails. |
| 0.4 Meg (Mbps) | Online gaming should be possible, remember gaming is very latency sensitive. |
| 0.8 Meg (Mbps) | Webcam video streams over Skype etc should be reasonable quality |
| 2 Meg (Mbps) | HD Webcam streaming may be possible. |
| 10 Meg (Mbps) | Uploading 200MB of holiday video to the cloud will take around 4 to 5 minutes |
NOTE: Any results generated on your speed test are not a guarantee of your true connection speed or your ability to perform a specific online task
Scale Your Business
With The Most Advanced
Residential Proxies
On Earth
Join the #1 Award-Winning Proxy Network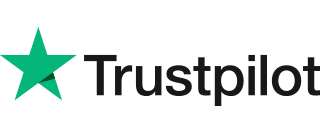 In the past few years I've been RDPs…
"In the past few years I've been using RDPs and really it was a nightmare regardless that it was super slow it wasn't secure at all, then I tried IPBurger it's very very very secure never been disconnected very fast, clean and professional proxy! Highly recommended!!!"
Easy to install!!
"I signed up for Ipburger as they have lots of USA city's and the one I was looking for. It was so easy to install and get up and running and is working great. No captcha's! Great value for the price as well."
This website helped me improve my business
"This website helped me take my business to the next level. The support is great they are always solving my problems in time and it offers a great price compared to other websites that provide the same service."
ipburger came highly recommended across…
"ipburger came highly recommended across multiple message boards. before i purchased my first IP i chatted with a rep who gave me excellent recommendations and after payment confirmation i was able to use the service immediately. i had a small hiccup with subscription and i submitted a ticket and immediately received support. excellent platform overall"
The Best Proxy and High Class Support
"At first, they were not working at my targeted site but they support was very friendly and gave a new plan with better proxies which helped to solve this issue. Works great on the site. Can recommend only because of the support and obv proxy will be UHQ for the price you pay"