If you're not paying, you're the product and not the customer.
That's 110% true today.
Online privacy violation is a huge industry!
Companies and organization are eager to shell out huge cash to get much information about you.
Service providers are no exception — these folks are in the business of mining data from unsuspecting customers.
What do you do? And how can you protect yourself against such a faulty system?
Over the years, there have been thousands of reports of how new companies bridge the public's trust by uploading addresses into their servers.
Also, they aim to get pretty much everything about your browsing habits and behavioral pattern.
These issues have raised lots of concerns. But some folks seem not to be bothered by the online data theft and privacy issues.
So, why should you care? And how does it affect the average Joe like you?
If you feel unimportant or believe you're a saint that got nothing to hide, then you're probably naive or short-sighted and got no clue of what's going on behind closed doors.
Here's the thing; companies that trade information collect lots of information about the public, habits, income, and demographics. The data is sold to large corporations who use it to create customized ads.
If you think that these Ads are no big deals — it's just a bunch of stuff, then you're wrong.
These Ads are customized and targeted to make you spend money. They are super effective — and most times, you'd end up paying much more than you bargained for.
Here's an unpopular truth — Ads are designed to control your buying decision. And if the Ad creators are good enough, then you'd spend much more without realizing the financial damages you'd caused.
But you can gain back control and take charge of your spending choices by using any of these browser extensions.
Ad Blockers
There's nothing more frustrating than seeing a bunch of Ads every time you visit a webpage.
Whether the Ads are relevant or not, it diminishes the browsing experience.
To curb this issue, you've got to use an Adblocker.
Ad blockers are ideal for folks who desire to stop silly widgets and popups. This way, you'd prevent these tools from mining your data and sending it to advertisers.
With thousands of Adblockers out there on the market, picking the right fit may be daunting.
Therefore, to get going, you should start with a couple of Adblockers like uBlock Origin and Adblock Plus.
One of the prominent features which make uBlock Origin stands out is its memory space.

The Adblocker consumes less memory space. Therefore, you get to install the Adblocker without worrying about slowing down your web browsing experience.

From the screenshot above, you'd see that the average load time with the uBlock Origin is quite lesser than those of other Adblockers.
Aside from its little memory space and quick load time, there is an option of creating personalized lists. That is, you get to gain more control over the kind of ads that appear on your computer screen.
That's not all…
The uBlock Origin is available for Chrome, Firefox, and Opera web browsers.
Unlike the uBlock Origin, the Adblock Plus takes much more storage space.
The good news is, the Adblockers is pretty good, and you get to have a more fulfilling web experience with the tool.
However, there's a downside which may get you worried…
Companies that pay good cash get to bypass the Ads blocker.
Pretty bad! Huh?
Well, that's the way it is — and it's not to undermine the benefits of the Adblock Plus.
The Adblock Plus can be installed by folks who use Opera, Chrome, and Firefox web browsers.
Anti-tracking extensions
Anti-tracking extensions are ideal for folks who want to disable third-party sites from tracking their browser.
If you're like most people, you probably think that cookies are designed to boost your web experience.
Well, that's quite true. But some advertisers use cookies to track your browsing activity — and the tracking is usually done without your consent.
Anti-tracking extensions are designed to shield you from malvertising and also protect you from the prying eyes of third-party advertisers.
That's not all…
It blocks cookies and other related tools from tracking your web activity.
All in all, anti-tracking extensions are the ideal tools which protect your browsing habits and keeps them away from tracking tools like cookies.
To get started, you should opt for anti-tracking extensions like Privacy Badger and Ghostery.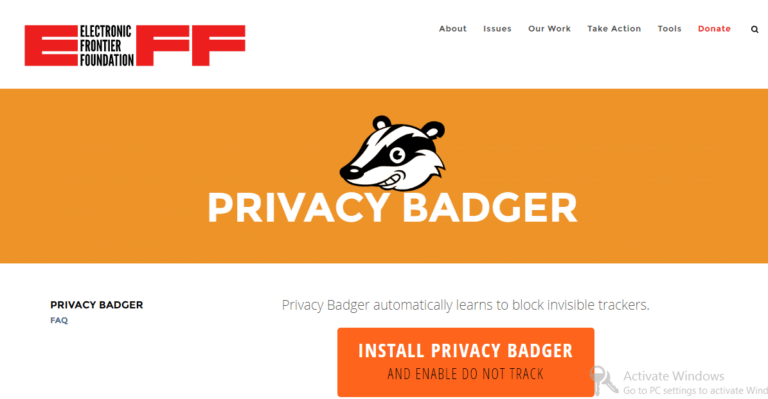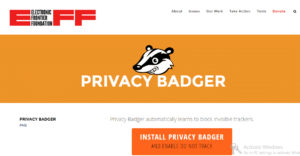 You've probably visited lots of websites with your browser — and most of these sites are out to mine your data and also track your browsing habits.
Created by the Electronic Frontier Foundation, Privacy Badger is one of the best anti-tracking software out there in the market.
It's available for Opera, Chrome, and Firefox browsers.
Here's how it works…
It blocks tracking cookies from monitoring your web presence.
The Privacy Badger extensions comes in handy when you want to surf the web without the prying eyes of suspicious third-party agents.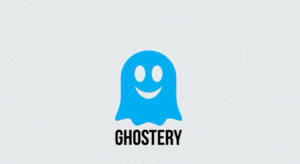 The intuitive interface is one of the key features that differentiates Ghostery from other anti-tracking extensions.
Also, you get to boost your experience by sharing your data with the platform. If the data sharing option doesn't sit well with you, you can choose not to use it.
The Ghostery interface provides an avenue for you to inspect your activity and decide on which tracker to block.
Ghostery is available for Chrome web store, Firefox, Opera, and Microsoft store.
Other Secure/Privacy Extensions
Ad blockers and anti-tracking extensions are excellent choices for folks who desire to protect themselves from the prying eyes of third-party agents. But you can take your online privacy to the next level by using other secure/privacy extensions.
If you're like most folks who use Adblockers and anti-tracking extensions, you're probably wondering why you need an extra level of security/privacy online.
Well, here is why…
Great websites are usually secured by the Hyper Text Transfer Protocol Secure (HTTPS), and the benefits are pretty cool.
With the HTTPS, you're pretty sure that personal data like credit card details and other vital information are secured. And the possibility of data theft and other forms of fraudulent actions are eliminated.
Here's the thing; you can't leave your online security in the hands of site owners, you've got to take charge of your online safety by using extensions like HTTPS Everywhere, KB SSL Enforcer, and IPBurger VPN.

HTTPS Everywhere provides the ultimate security, which helps you to navigate through the web without worry.
It's quite tricky to determine if a website is secured.
With HTTPS Everywhere, you get to eliminate such fears as you browse through any site without a worry in the world.
Sounds cool, right?
HTTPS Everywhere is designed by the EFF and The Tor Project.
If you land on an unsecured website, the HTTPS Everywhere will redirect you to an encrypted HTTPS website. This way, your data is kept safe, and the possibility of getting information leakage becomes pretty much non-existent.
If you're in luck, you can opt for VPN services which have the HTTPS Everywhere as built-in functionality.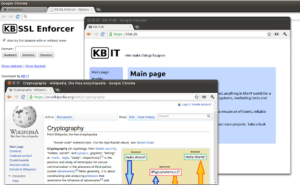 KB SSL Enforcer redirects you to the HTTPS version of a website.
Some folks argue that the KB SSL Enforcer is much better than the HTTPS Everywhere, but it all depends on the functionality you're looking for and how you're able to adjust the settings.
On the flip side, the KB SS Enforcer forces the user to land on the HTTPS version of a website — even if the site is broken.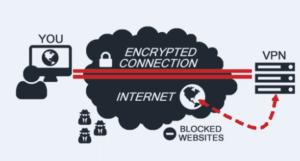 The IPBurger VPN is available for Windows, Mac, Android, iOS, and Linux users.
For the record, Adblockers and anti-tracking extensions are all great tools to help you maintain online anonymity. But if you desire to navigate through the web remotely, then the IPBurger privacy extensions would be the right fit.
Here are a couple of features that would tickle your fancy…
Fresh dedicated VPN to mask your online presence. This way, you're sure of an abuse-free web experience.

Breakneck VPN speed — connect to the web with unlimited bandwidth, fast connections, and no throttling. Pretty cool for folks who manage an eBay store and other online stores.

Military-grade encryption which guarantees your privacy.

256-bit AES encryption, kill switch, and DNS /IPv6 leak protection — you're guaranteed of 100% protection from surveillance and hacking.
The installation process is pretty straightforward, and the user-friendly interface makes it easy-to-use. And you get to have refined web experience.
Conclusion — Protect Your Privacy With the Right Browser Extension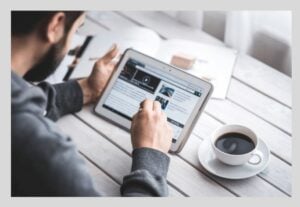 Whether you're merely surfing the web or you manage an online business, Adblockers and anti-tracking extensions would significantly boost your user-experience.
Irrelevant Ads, tracking cookies, and lots of other malware designed to monitor your browsing habit would be stopped dead in their tracks.
You can also take your web experience to a whole new level by using VPN services.
With VPN services, you get to protect your online privacy and shield yourself from the flawed policies of online market places.
What's next — what's your most preferred browser extension? And why would you use it to protect your online privacy?
Share your thoughts in the comment section below.