Television in India is a very big deal, more so than in other society. For starters, the country is famous around the world for its film industry popularly known as "Bollywood". It is even more prolific than Hollywood – with a higher rate of movies produced per year.
Indians love their TV shows. And they also love sports. There is a growing interest in football and especially the UEFA Champions League and the Premier League, not to mention the FIFA World Cup as well. However, you could say that cricket takes the first spot since it is the national sport. And nobody will argue!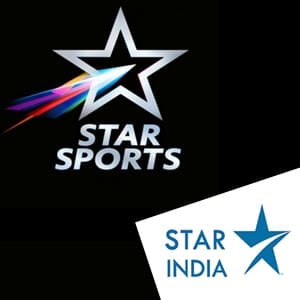 Given that people enjoy spending countless hours in front of the TV and they also love watching sports, India has all the ingredients for a successful channel, and that channel is Star Sports. Star India, a subsidiary of 21st Century Fox, owns the network.
The consortium is home for numerous related signals, such as Star Sports 1, Star Sports 2, Star Sports Select 1, Star Sports Select 2, Star Sports Hindi, Star Sports 1 Tamil, Star Sports First, and Star Sports 1 Kannada. It also has available HD channels.
Events and Tournaments Broadcasted by Star Sports
Cricket World Cup
Champions Trophy
World Twenty20
Indian Premier League
Asia Cup
International cricket in Bangladesh
International cricket in New Zealand
Ranji Trophy
Tamil Nadu Premier League
Karnataka Premier League
Premier League
Bundesliga
I-League
Indian Super League
Super Cup (India)
Hockey India League
Hockey World League
Kabaddi World Cup
Formula One
Formula E
French Open
Wimbledon
US Open
Hotstar: Online Sports Entertainment
Star Sports, keeps up with the paradigm shift in the way people watch television these days by having an online streaming platform available for computers, laptops, and other mobile devices. Its name is Hotstar and is only available in India.
Hotstar functions under a "freemium" model, which means that it offers a free service that will be vastly improved if users decide to switch to a premium package that requires payment.
The Challenges of Geo-blocking
You have seen the broad catalogue of tournaments, games, and events that Star Sports can show. However, there is one issue: the service is made by and for the people living in India, and therefore it is blocked for international audiences other than some of the countries in the area.
It is called geo-blocking when a network or platforms restrict its content for licensing reasons that go hand in hand with its geographical location. This is common with most sites and streaming services in the world, including Netflix, Hulu, the BBC iPlayer, and thousands more.
If you are, say, in Spain, and want to open a Hotstar streaming layout, the system will show a message saying that it can't show the content in your area. However, there are workarounds to overcome this issue.
With a VPN (Virtual Private Network) you will be able to enter the Hotstar streaming site without no issues, as long as the brand you choose has servers in India. Geo-locking is not personal: in fact, it recognized IP addresses, and it needs an Indian one to show its best features.
Obtain an Indian IP Address with a VPN

Of course, if you are outside of the country, the system will recognize the IP number of your native nation. But, with a VPN, you can temporarily acquire an Indian IP address and unblock Star Sports from anywhere.
VPNs are online apps that offer; in addition to unblocking magic, privacy, and security. They will create a virtual tunnel to hide your IP address and shared content online from hackers, governmental surveillance agencies, Internet Service Providers, online advertisers, and networks that apply geoblocking.
A reliable VPN, like IPBurger, will be able to secure your traffic from snooping due to its robust encryption and sound privacy policy. IPBurger also has the ability to offer shared and dedicated IP addresses, optimized for your performed activities. It has servers in India, so you can use it to unblock Star Sports from abroad.
How to Install and Use a VPN to Unblock Star Sports Anywhere
Choose a VPN provider with servers in India.
Go to that VPN's page.
Register for the VPN service. Usually, the system asks for your email and name. Also, you would have to provide a valid payment method.
Create a username and a passphrase.
Download the client or app compatible with your operating system.
Install it on your device.
After installation, launch the VPN app.
Connect to an Indian VPN server.
Go to Hotstar/Star Sports streaming site.
Done! You can now watch live games and other sports-related content.