Welcome to the world of proxies! Whether you're a tech novice or an experienced coder, setting up a GoLogin proxy can be daunting.
But don't worry—with this step-by-step guide, you'll be up and running in no time. We'll walk you through the process of setting up a proxy on GoLogin, from understanding the basics of proxies to configuring the settings.
So grab your laptop, and let's get started!
What is GoLogin?
GoLogin is a platform for managing user identities and access permissions. This makes it easier for organizations to manage user identities and access permissions. It gives you a platform that makes managing user accounts, access rights, permissions, and security policies easy.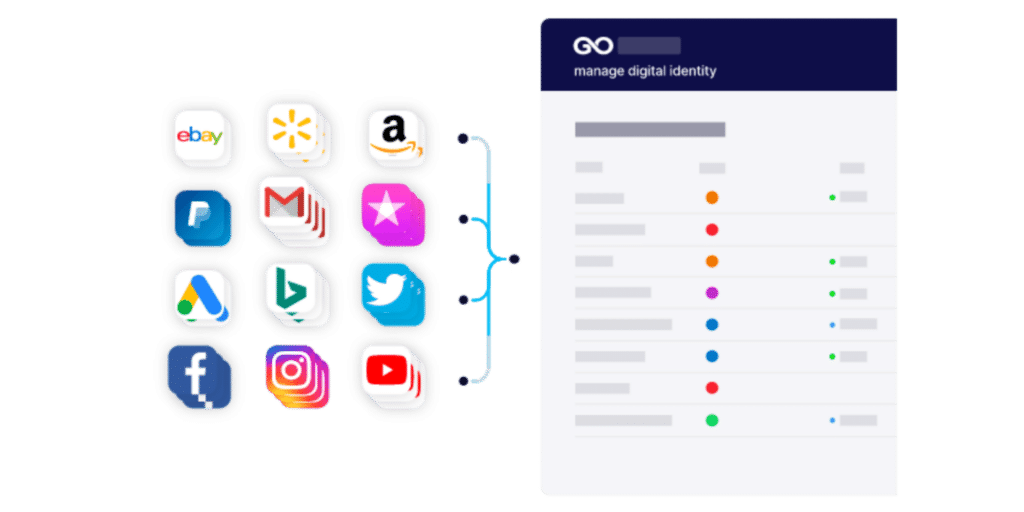 GoLogin also has options like single sign-on (SSO), multi-factor authentication (MFA), and authentication without a password. These features help businesses protect their systems and data while making getting in easier for their users.
What is a Proxy?
A proxy is a server or computer system that acts as an intermediary between a client and a server. It routes requests from the client to the server and returns the responses back to the client. It can access certain resources, filter requests, or keep private networks safe.
So, a GoLogin proxy is a proxy you use through the GoLogin app.
Benefits of Setting up a GoLogin Proxy
There are numerous advantages to using a GoLogin proxy. Mainly, no one can detect your real IP address. Here are some other benefits.
Increased Security: One of the main benefits of setting up a GoLogin proxy is that it provides an extra layer of security for your network. You can protect your network from attacks like DDoS and data theft by sending all traffic through a secure proxy server.
Improved Performance: By routing traffic through a proxy server, your network performance will be improved as the proxy server can cache webpages and other content. This can lead to faster loading times and reduced latency.
Increased Privacy: If you route your traffic through a proxy server, your ISP won't be able to see what sites you visit. This makes it harder for ISPs to track what you do online.
Reduced Bandwidth Usage: By caching webpages and other content, a proxy server can reduce the amount of data you need to download, reducing your bandwidth usage and saving you money.
Access Blocked Content: Using a proxy server, you can access content that the ISP or government may have otherwise blocked. This can be useful if you want to access websites or services unavailable in your country.
What You Need to Setup a GoLogin Proxy
Web server that supports GoLogin
Reliable internet connection
GoLogin app
GoLogin account
SSL certificate
Proxy credentials
Firewall and port forwarding configuration
Step-by-Step Guide to Setting Up a GoLogin Proxy
1. Go to your GoLogin app
2. Click on + Add Profile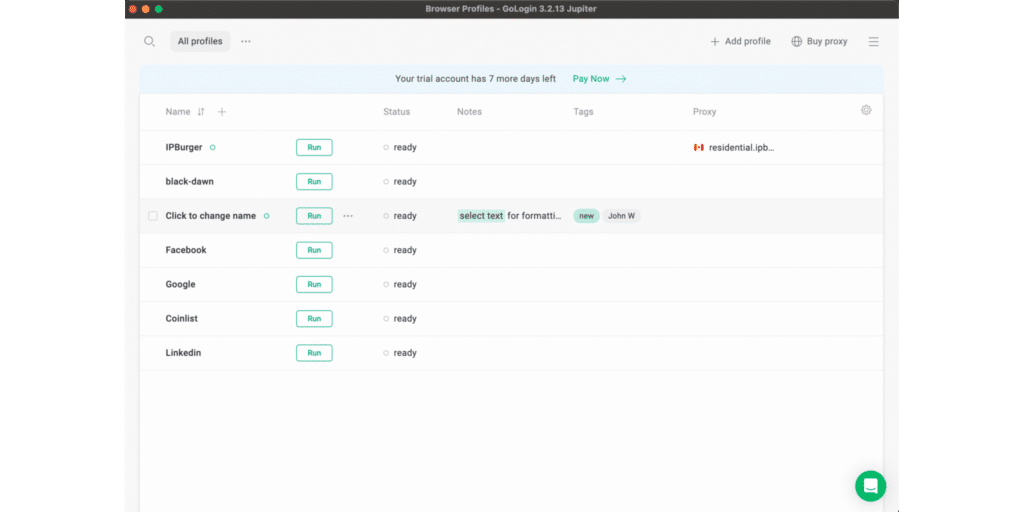 3. Select the Your Proxy tab
4. Fill in your proxy's login credentials. You can find them on IPBurger's user dashboard.
You can use any name for your Profile Name.
Select the Proxy Type.
Enter your IP Address and Port Number.
Enter the Username and Password.
Click on Create Profile.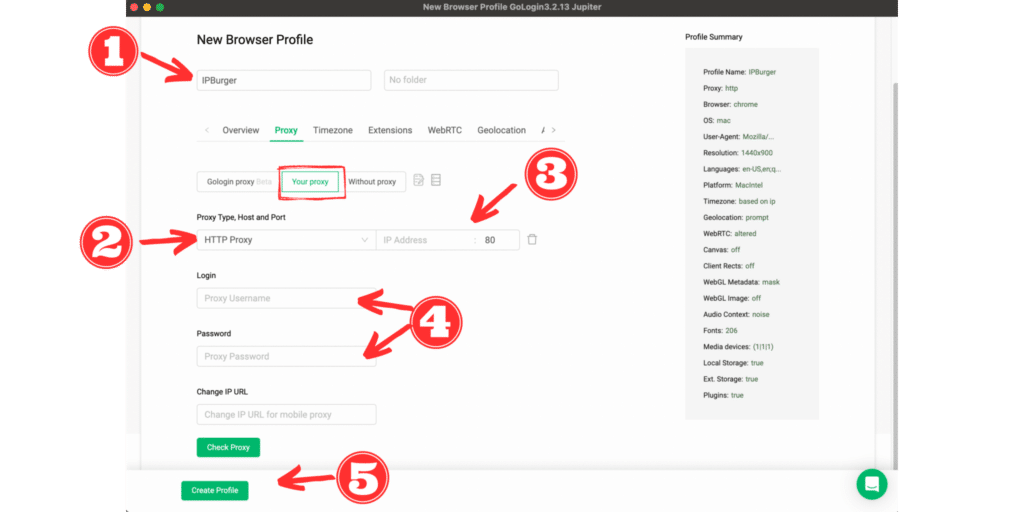 5. Find the profile name and click Run. After a moment, the status will change to "running," and your browser session will open.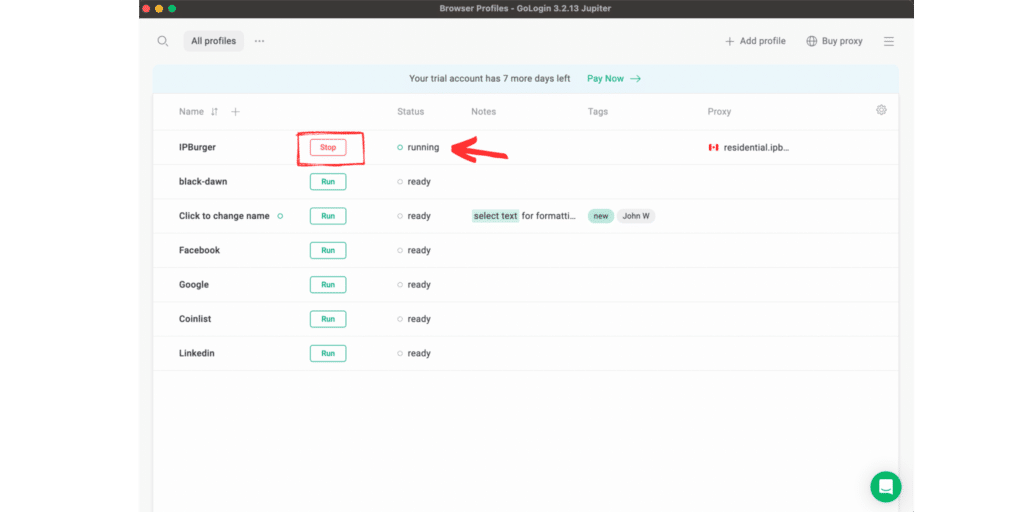 Troubleshooting Common Issues
Poor connection: Check if your computer or device is connected to the network. Check for any loose or disconnected cables and reconnect them. Make sure the wireless router is turned on, and the LED lights are working properly. Check if the wireless driver is updated. Reset the router and try reconnecting.
Slow loading speeds: Identify the source of the slow loading speeds. Check if your home network is running slowly or if the website or service you are trying to access has server issues. Try clearing your cache and cookies. Check your internet speed and bandwidth. Try using a different browser. If the issue persists, contact your internet service provider (ISP).
Inability to access certain websites: Check to make sure your internet connection is working properly. Make sure you can access other websites. Check to see if the website is down or if your firewall or antivirus is blocking it. If none of these solutions work, try using a different web browser.
Finding Reliable Proxies
IPBurger is a proxy service that allows users to access websites and services anonymously by hiding their IP address. Users can access the web without revealing their identity or location. IPBurger's proxy service also lets users browse the web safely and privately and stream videos quickly and reliably.
To set up an IPBurger proxy, users must first sign up for an account and purchase a subscription. Once an account is created, users must configure their browser settings to connect to the IPBurger proxy. This is done by entering the IPBurger proxy address, port, username, and password into the browser settings. Once the browser settings have been configured, users can browse the web securely and privately.
Using an IPBurger proxy has many benefits, like better security, privacy, and faster streaming. Additionally, IPBurger offers a wide range of subscription plans, so users can choose one that best fits their needs. With IPBurger, users can access the web securely and privately without sacrificing speed or reliability.