There is an old saying stating that "a picture is worth a thousand words," and it is absolutely true. In our current planet dominated by technology, people spend hours looking at photos and watching videos about their respective interest in one of the most influential social media outlets of our moment: Instagram.
Instagram combines features of Youtube, Facebook, Snapchat, and WhatsApp. It takes the best of each one and provides a fantastic product, in which people can post, share, comment, and like all kinds of news and publications.
Instagram's algorithms can recognize your preferences when it comes to content to show you. Users can "like" other people's pictures and videos, as well as comment on them. It also offers its users the opportunity of editing their pictures with filters, organize content with tags, save favorite posts, and access location-based information, among other things.
A great social network tool, but…
However, as a privacy-invasive social media tool, Instagram can be annoying and sometimes dangerous to people's data security. That is why, if users grow tired of it, they have the ability to erase their accounts.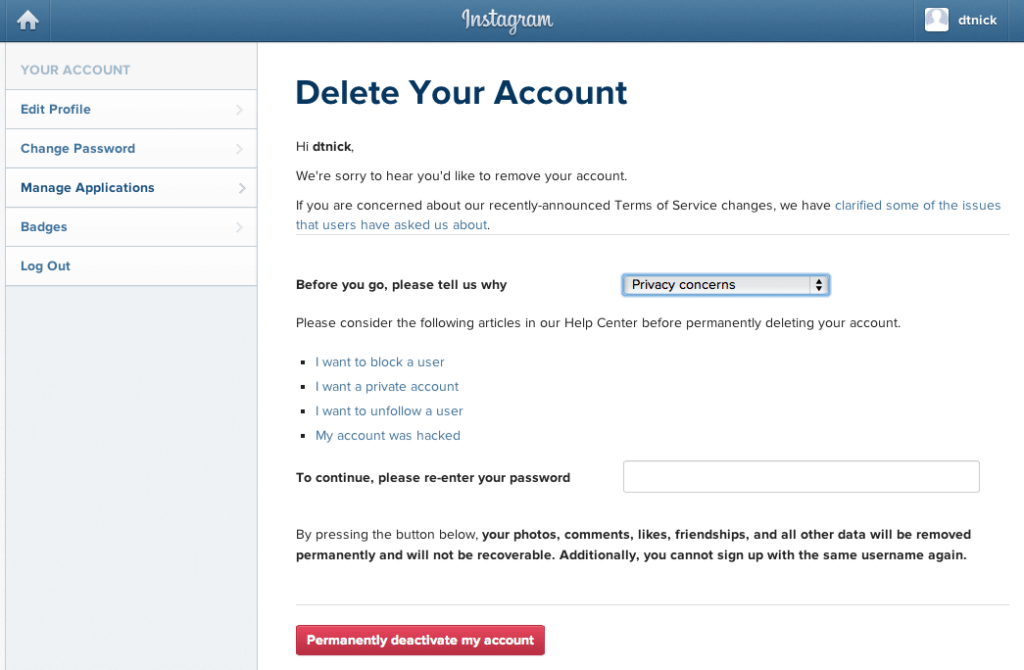 Instagram can be addictive, which is not necessarily a bad thing, but isn't a good one, either. It all depends on the case and the person. People may be stressed of feeling the need to capture every single moment of their lives, or; if you live in certain countries, live with the burden of a slow Internet connection that takes forever to load the minute-long videos and all the pictures.
Fortunately, deleting your Instagram account permanently isn't all that hard. The network makes it easy to do it, as only a handful of steps are required. However, you neeed to have the stomach to do it, as it would have a direct effect on your activity so far.
Delete your Instagram account: all you need to know
Deleting your Instagram account will also mean that your posted pictures and photos, notifications, likes, and comments will also be deleted from the system, as well as saved searches, saved posts, followers, and everything you have managed to build so far.
In addition, Instagram states that there are no changes of heart allowed after three days, which is when the hashtag withdrawals kick in. Once that happens, the social network won't be able to reactivate your account, which will be impossible to access ever again.
That is why, if you are not entirely sure about permanently deleting your account, Instagram provides the option to temporarily deactivate it. With it, you can "pause" your settings and account and come back at a later date.
Here is how to permanently delete your Instagram account:
It is impossible to erase your account from scratch directly from the mobile app, which is why you need to do it from the Instagram page. And, naturally, since the network does not want to see you go and never come back, it is not easy to access the Delete Your Account page.
Make sure you are logged in to your Instagram account in your browser. If you are not, type your username and password to enter. On the other hand, click on the Forgot button to reset your password: it is imperative that you know your username and associated email to delete your account.
Select a reason for leaving
Of course, Instagram will want to know why you are abandoning them. The layout will show a series of causes, and you will have to choose one. Among the selections are being "too busy" for the app, you can't find people to follow, excessive ads, and other.
Make sure to select the most suitable reason (it isn't always 100% accurate, though, but it doesn't matter.) Then, the system will ask you one last time for your password.
Delete your Instagram account
This is the time in which you may remember that there are no changes of heart. You will lose everything! If you are OK with that, tap the "Permanently delete my account" option. You are now off Instagram.