Learn how to quickly and easily set up proxies with the multi-login browser service VMLogin.
You're an ambitious entrepreneur looking to take your business to the next level. You know that using proxies is the key to success, but you don't know where to start.
Well, you've come to the right place. This blog will show you how to use proxies with VMlogin, the leading anti-detect multi-login browser provider. With this powerful combination, you can access restricted content, protect your online privacy, and even get around geo-restrictions. So, let's learn how to use proxies with VMlogin!
What is a proxy?
A proxy is an intermediary computer or software application that acts as a go-between for client requests for resources from other servers. Proxy servers can improve security and privacy, boost performance, and give you access to blocked content in your country.
What is VMLogin?
VMlogin is an advanced identity and access management platform that runs in the cloud. Its goal is to make controlling access to virtual and physical assets easier and safer in multiple cloud environments. It is made to help organizations manage user access to virtual machines, apps, and other cloud-based services quickly and securely.
Use Cases for Multi-Login Browsers Like VMLogin
Web scraping: Multi-login browsers let people use more than one account to scrape multiple websites at once. This benefits those who require data from multiple sites but do not want to switch between accounts.
Buying limited-edition items: Multi-login browsers let people quickly buy limited-edition items from multiple sites simultaneously. This is beneficial for those who want to increase their chances of getting a rare item.
Ad verification: Users can check the accuracy of ads on multiple sites with multi-login browsers. This is helpful for advertisers who want to ensure their ads look right on different platforms.
Social media management: Multi-login browsers make it easy for users to manage their social media accounts from one place. This benefits social media managers who want to quickly post content and respond to messages across multiple accounts.
Work with Others: Multi-login browsers are great for working with others because they let more than one person use the same browser simultaneously. This makes it easier for teams to work together on projects without passing the same computer back and forth.
Online Shopping: Multi-login browsers can be used for online shopping, allowing multiple family members to shop from the same device without having to log in and out of different accounts. This can be especially useful for families who are shopping together.
Education: Remote learning can be made easier with multi-login browsers, which allow multiple students to use the same browser and view the same pages. This allows for a more collaborative and interactive learning environment.
Multi-Device Access: Multi-login browsers are an ideal solution for people who use multiple devices, as they allow them to access the same browser and webpages on any device. This can be especially useful for people who regularly use laptops and tablets.
Benefits of Using a Proxy With VMLogin 
There are many benefits to using any anti-detect browser or multi-login browser. Here are some specific advantages of VMLogin: 
Increased security: By acting as a buffer between a user's computer and the internet, proxy servers add another layer of security. Passing traffic through the proxy server can protect users from malicious attacks and cyber threats.
Increased Anonymity: By using a proxy server, users can remain anonymous by hiding their IP address from the websites they visit. This can benefit those who wish to keep their online activities private.
Performance Improvement: By caching frequently requested content and compressing web traffic, proxy servers can make web requests go much faster and work much better.
Content Filtering: Proxy servers can remove unwanted content by filtering it out. This lets users control what kind of content they see. This can benefit businesses or organizations that need to control access to certain types of content.
Easy Setup: Proxy servers are relatively easy to set up and can be configured to work with VMLogin software. This makes it a good choice for people who want to securely connect their computers to the internet.
How To Use Proxies With VMLogin 
Using proxies with VMlogin is fairly easy. All you need to do is select Setting Proxy Server, enter the proxy details you want to use, and click Save. This will then apply the proxy settings to the system, allowing you to access the internet through that proxy.
However, let's walk through the process together.
1. Download and Install VMlogin
You only need to go to the VMLogin website and download their app. Once the download is complete, follow the instructions to install it.


2. Configure the Proxy Settings
Once you finish installing VMlogin, click on New Browser Profile. This will take you to a new window where you can set up a browser profile.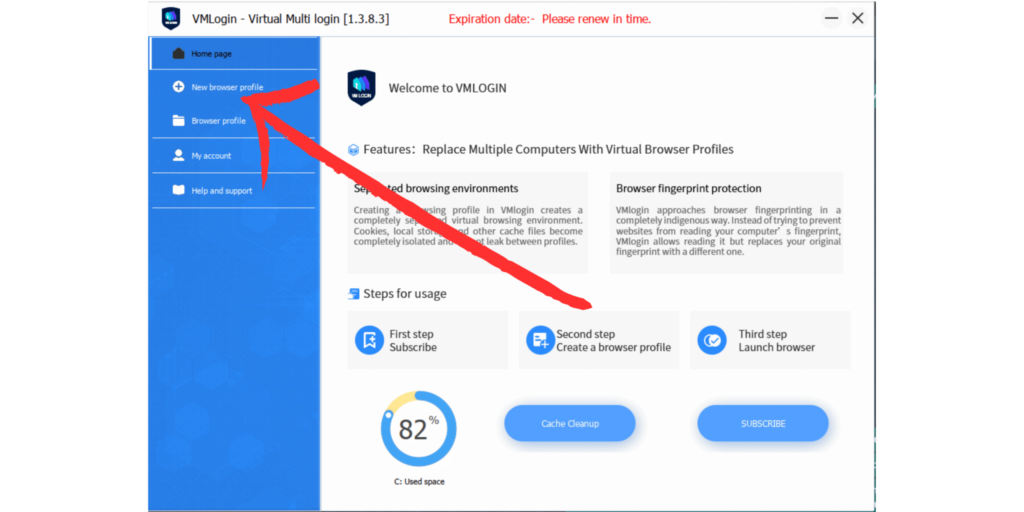 3. First, click on Get Random Profile.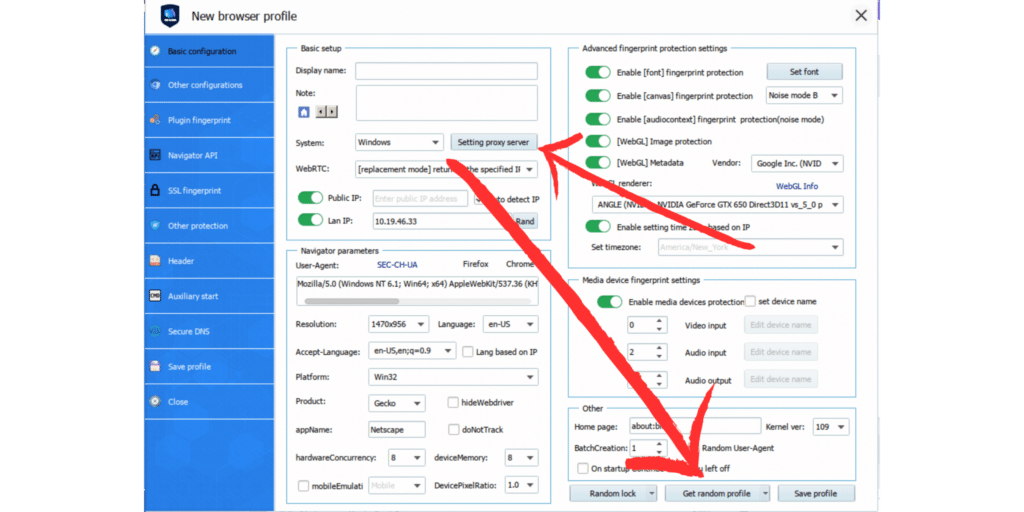 4. Then, go to Setting Proxy Server. A small window will pop up where you can enter in proxy credentials. If you haven't already got proxies, you can view the section below on How to Get Proxies from IPBurger for VMLogin.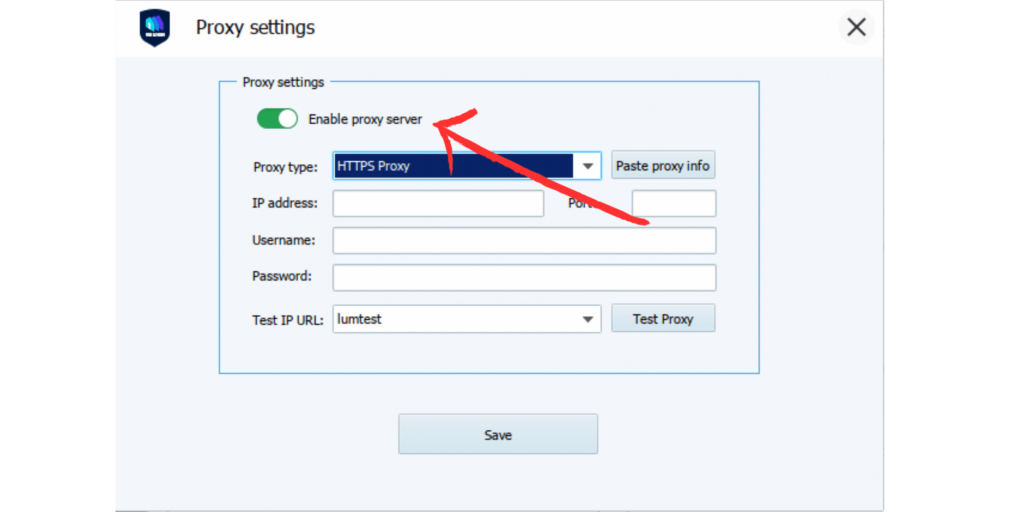 5. Next, slide over and Enable Proxy Server.
6. Then, select the Proxy Type. Usually, it's HTTPS.
7. You can now copy the credentials into each box for IP Address and Port from your proxy service provider.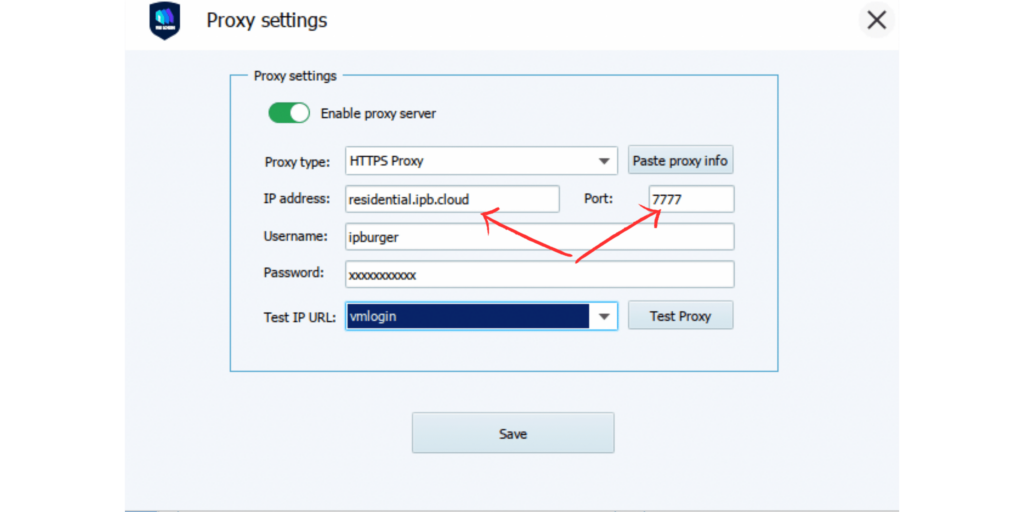 8. If you require authentication, enter the Username and Password.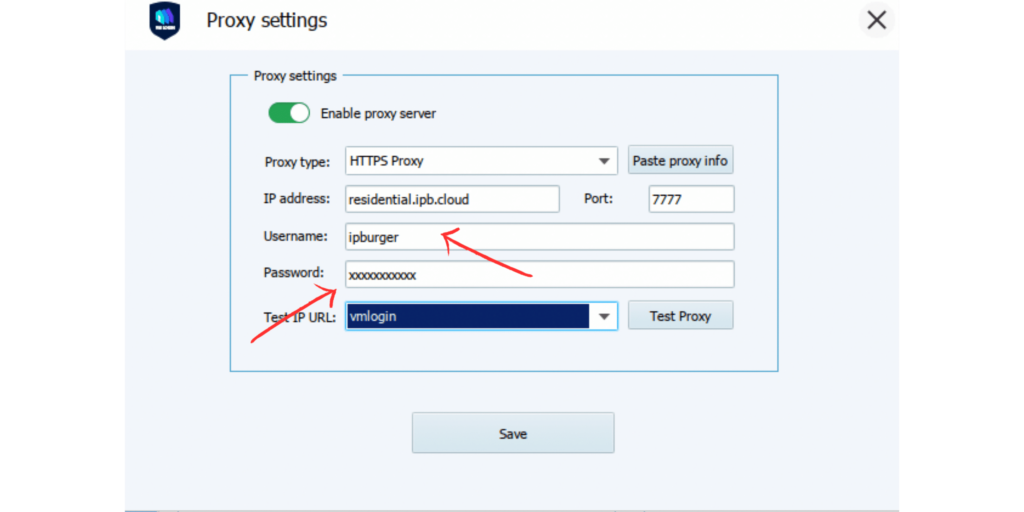 9. Finally, you can click Text Proxy to see if it works.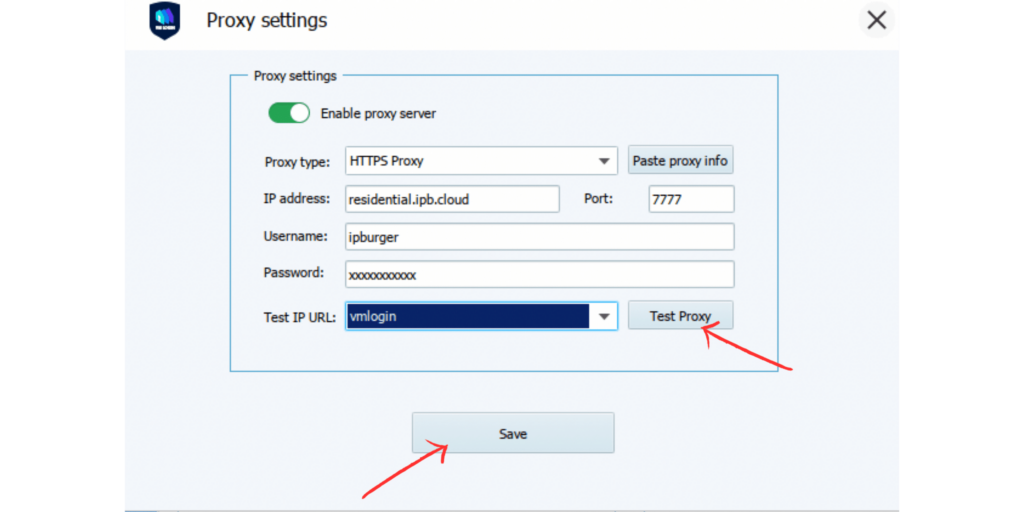 10. If you're good to go, click on Save.
11. Once you are satisfied with your browser settings, click Save Profile.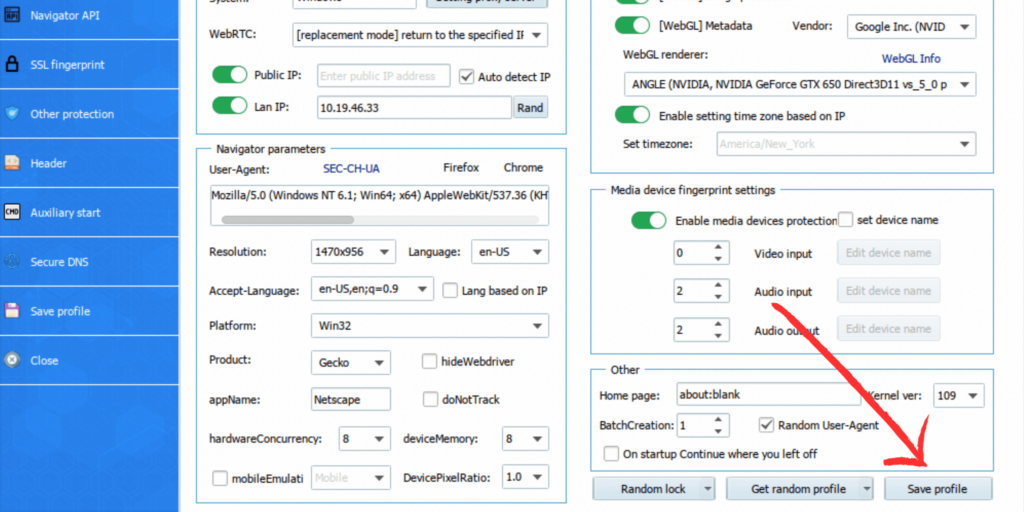 How to Get Proxies from IPBurger for VMLogin
Step 1: Go to IPBurger's homepage and click Sign Up.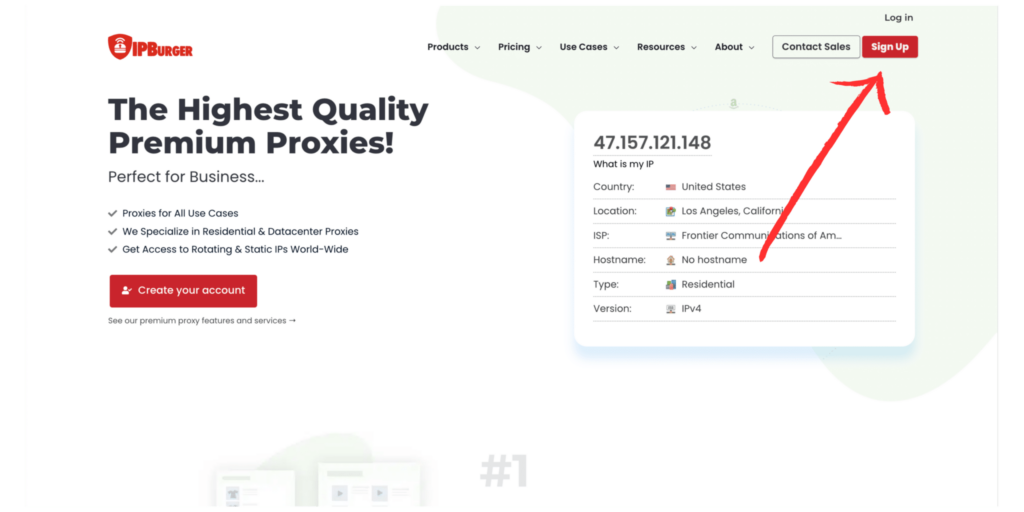 Step 2: Choose a plan that suits you and sign up.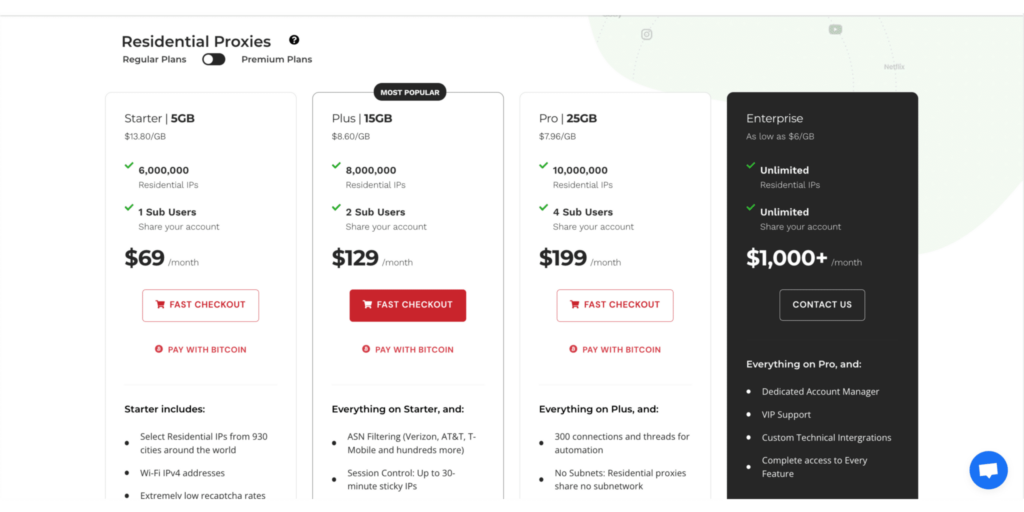 Step 3: Go to My Account and click the Proxies tab on the left menu.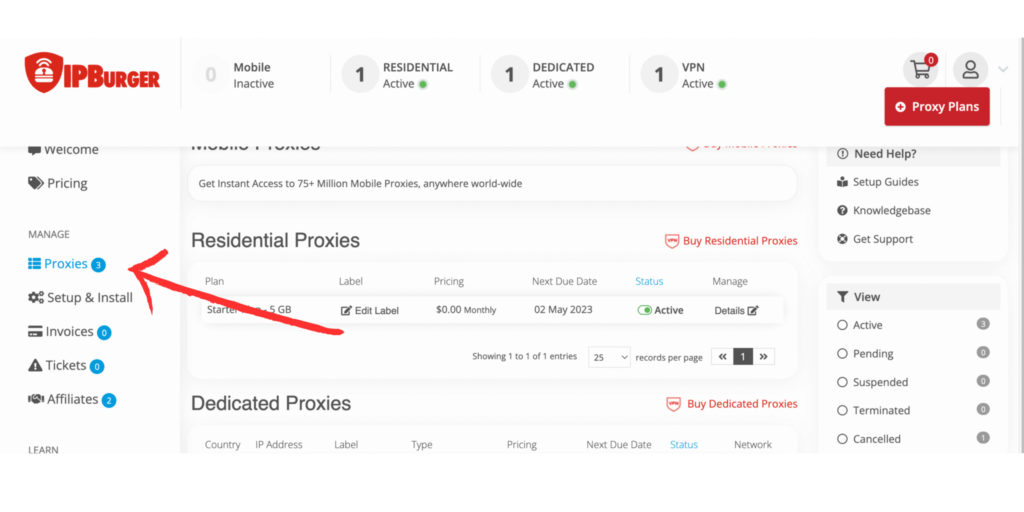 Step 4: Find your plan and click on it.
Step 5: Click on Proxy User Settings. Here you can customize your proxy settings. Once finished, click Save.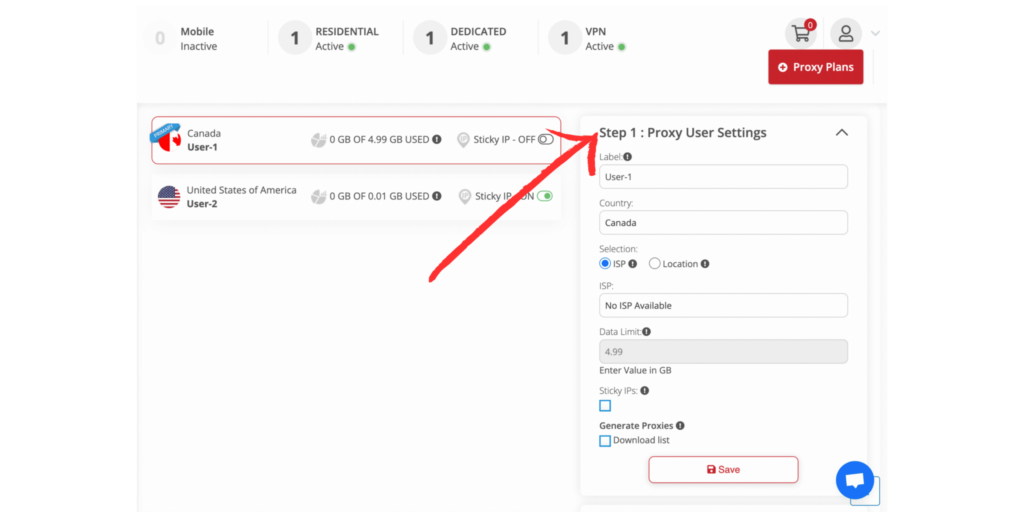 Step 6: Click on Proxy User Credentials. You can copy and paste it into the VMLogin proxy settings.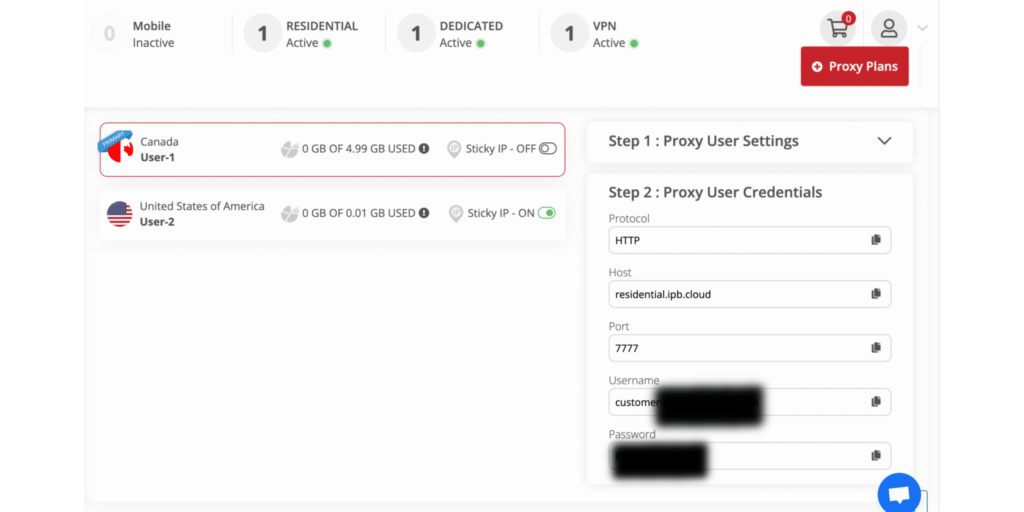 Using proxies with VMLogin can be a great way to protect your privacy and security online. Proxies can help hide your IP address and secure your identity and data. Proxies can also help reduce the bandwidth used by allowing multiple users to share a single IP address.
IPBurger proxies are known to be reliable and provide good speeds, making them an ideal choice when using VMLogin. Using proxies with VMLogin can help to give you the privacy and security you need while still allowing you to access the sites you need.
A multi-login browser is a type of web browser that lets users log in to more than one account or profile at the same time. This browser type is especially useful for individuals who need to switch between multiple accounts or profiles quickly and easily.
Multi-login browsers can save you time when switching between accounts or profiles, as you don't have to manually log out of one account and log in to another. Also, multi-login browsers are safer because you don't have to enter your password whenever you switch between accounts. Finally, multi-login browsers make tracking multiple accounts or profiles easier, as they allow you to quickly switch between them with a single click.
Multi-login browsers usually have a number of features, such as the ability to switch between accounts with a single click, add multiple accounts to the same browser, and save passwords for each account. Additionally, many multi-login browsers offer additional features, such as the ability to customize your account