The streets of Brooklyn are unusually cold.
Jack and Joe are merely walking down the streets, looking for how to create some meaning and financial stability in their lives.
Two months ago, they graduated from high school. And due to circumstances beyond their control, they can't afford college fees.
They are not interested in formal education. A couple of dollars every now and then would do.
Yes, I know, that seems short-sighted, but it's tough to convince a couple of black kids to go to college when some basketball superstars without college degrees are tanking in millions every year.
Joe, who's living with his grandma, needs some quick funds to meet his needs.
Luckily, there is an old couch in the basement. Grandma just had a new sofa a couple of weeks ago, and selling the old furniture seems like the way to do.
The problem is; Joe is not particularly a good salesman!
Selling is not his good points in school. Therefore, selling some old couch would be enormous problems for him.
Fortunately, Jack has heard some white kids talk of selling things on eBay.
The best part…
They found
a couple of YouTube videos
that helped them set up their eBay account the right way.
Boom!
They've made a sale!
Joe just made an extra $50 buck, and the idea of selling things online sounds promising.
Over the next two months, Joe and Jack went on to build a formidable business partnership.
Building their eBay dropshipping business was pretty easy — all they had to do is…
Set up an eBay/PayPal account
Find the best selling products to sell on the platform
Identify great dropship suppliers.

Use the right platforms for international communication
In the beginning, the process seems pretty tricky. But everything starts to fall into place when they kept building and refining their process.
Six months into selling online, Joe and Jack have built a remarkable business which generates over $10,000 per month in revenue.
Pretty cool for high school graduates in the streets of Brooklyn!
The best part…
They worked from home, and don't need to commute to work every day.
Here's the thing; there are millions of regular folks like you who are making it big on eBay! And some of these dudes are high-school dropouts with some marketing skills.
The world revolves around the internet.
With a reliable internet connection and a laptop, you can pull in hundred-thousands dollars in revenue per month.
Still skeptical?
Well, you'll discover how to do just that.
First, here are the benefits of building an eBay business.
It's super fast
Unlike traditional businesses where you need to rent a physical shop and stock your shop with some products, doing business online is pretty quick and effective.
With eBay, you get to create a compelling auction today, make sales, and get your cash within the week.
2. It's less expensive
Imagine the cost of setting up a traditional business — you've got to find a suitable location, build/rent functional structures, and buy good products for sale.
However, by merely opening an eBay store, you could sell products right from the comfort of your home.
Also, you can start by selling your old stuff online.
Just like Joe, you can sell off an old couch and get paid within the week.
That's not all…
You get to start for free! Expenses are incurred after you've generated a sale from your store.
3. You can quickly generate lots of leads in no time
With over
182 million active buyers on eBay
, you're sure of getting a stream of buyers in no time.
Here's the thing; it's pretty tricky to get a million buyers all in one place
.
But with eBay, getting tens of thousands or millions of active buyers is easy.
What's more, the mobile app makes it a lot easier to buy and sell on the eBay marketplace.
Yes, selling on eBay has lots of benefits.
However, getting the most out of your online store is much more than having a good product list.
To succeed in the eBay marketplace and generate a steady income from the platform, you've got to tweak and refine your sales process continually.
Here are quick steps to help you start and scale your eBay business.
Familiarize yourself with the eBay platform
First things first, if you've never used the eBay platform before, then the first step is to get familiar with it.
Understanding how eBay works would help you decide if it's the right fit for you.
Also, you get to determine if it's ideal to go full-time and run it as a home business.
As a newbie, you can familiarize yourself with the platform by:
Signing up for a free account
To signup for a free account, you'd need a computer (or laptop) and a credit (or debit) card.
Pro Tip: To get payments from buyers, you'd have to
signup for a PayPal account
.
You can either opt for the
eBay business account
or the
regular account
.
The business account is ideal for folks who would want to run a full-time eBay business, while the personal account is a perfect fit for folks who would want to run a part-time business on the eBay platform.
To register, you'd have to provide relevant information, and hit the "create account" icon at the bottom of the page.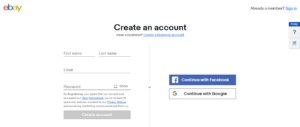 Buying something
To get a feel for the eBay platform, you've got to buy a couple of items.
Notice what draws your attention — the headline, product price, and images.
Some product listings are run as auctions; others are run with the "Buy Now" model.
In auction models, you get to bid for the product. You can also set up customized price ranges you're willing to pay. This way, eBay gets to submit your bid, and also increases it gradually until the max price is hit.
Pretty cool for folks who would want to get the best deal!
There are no bidding options for products on the "Buy Now" model — you make payments and initiate the product delivery right away.
Selling a couple of items
After the registration of your account, you've got to sell some stuffs.
To start selling, click on the "sell" icon.

On the new page, you'd have to create your product listing. But first, you'd have to write the name of your product in the box.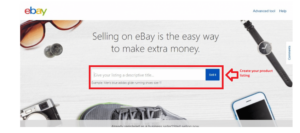 A possible list of categories would appear for your item. If you don't see a desirable product category, you should click on the "Select one here" icon for more options.

Once you've selected a category (and subcategory), a list of products would be displayed as sample template listing. You can also click the
"Create a new listing"
option to create a customized product listing.
After creating a product listing (or customized product listing), you've got to come up with the product title.

Pro Tip: The clearer and precise the product title is, the more chances of landing buyers.
Next step is to add some pretty cool pictures onto your product listing.
Humans are visual being, and if you want to generate more engagements (or sales), you've got to add some compelling photos.
Here's the thing; you've got to use high-quality imagery. And if you want to increase your chances of landing customers, you've got to upload images from various angles.
To add images into your product lists, click on the "+" sign.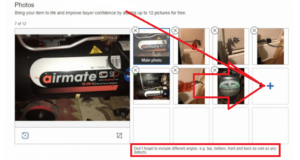 If you desire to sell branded products, then you've got to specify the product details, so your customers get to know the exact product brand you're offering for sale.


After specifying the product brand, you've got to add a couple of product description to spice things up.
To write a compelling product description, you've got to add relevant details that would make customers pick your item over similar products in the market.
The next step is pretty straightforward — you get to either put the product for
auction
or use the
Buy it Now
option.
If you opt for the auction model, you get to have multiple bids on the item.
The good news is — you are to determine the lowest bid for the item. That is, you get to add the lowest price you can accept for a product.

Finally, you get to choose your mode of delivery.
Here is the thing; since you've already provided your details during registration, eBay already knows your location. But an estimated
delivery cost recommendation
would be made based on your customer's location.
However, in cases where the product is too heavy to deliver, you can opt for the "collection in person" option. To select the option, all you've got to do is tick the box and click on the change icon.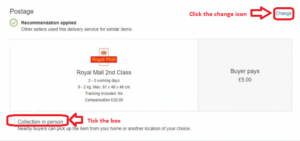 Note: eBay doesn't charge for product listing on the platform, but in cases where a fee (or commission) is required, you'd be charged only when your product is sold. Typically, you'd be provided with details at the bottom of the page to let you know when they're charging some fee.
Sending an invoice to the buyer
Some buyers pay immediately after indicating interest. Other times, you'd have to send a PayPal invoice to the buyer before sending the parcel.
Once you've received the payment, package the product, and send it to the buyer's location.
Asking/Giving feedback
Feedback serves as testimonials from clients.
When a buyer makes a quick payment, deliver the product, and ask the buyer to leave feedback on the site.
Feedback is an excellent marketing tool to help you boost the authenticity of your online store.
To increase your chances of gaining more positive feedback from your buyers, set reasonable expectations, and deliver the package on time.
There's nothing more dangerous than feedback from a dissatisfied buyer — especially one who got a late product delivery!
You wouldn't want to feel the wrath of such a buyer! Would you?
2. Grow your eBay Business
If you've got the entrepreneurial gene in you, you can transform your eBay hustle into a full-time business.
To do that, you've got to:
Every niche is profitable; it all depends on how you market your business.
Yes, some niches are more profitable than others, but if you've got the
right work ethic and the right mindset
, you get to make significant progress in any product niche of your choice.
There are a couple of
ways of picking the right business niche
. First, you can start by selling old stuff around your home. And when these items are exhausted, you can sell other similar items on your store.
Alternatively, you can opt to buy items in bulk, then sell it piece by piece on eBay. This way, you get to generate enough profit quickly.
Other reliable ways of getting excellent products are by using thrift stores and yard sales. Wholesalers and drop shippers would come in handy since they offer products at a much lower price. And when you sell at a higher price, you get to generate tangible profit from the product sale.
Here's the difference between drop shipping and wholesale companies…
Drop shipping companies handle everything. They also add your business label to the product, but you've got to pay for this feature.
Wholesale companies, on the other hand, sell products in bulk. You buy it and sell the products to make a profit.
In the eBay market space, there are two kinds of sellers — those who are focused on a specific product line and sellers who follow the trendy market (they tend to follow the market trends and make switches regularly).
The issue with following market trends is you've got to invest more time on market researches and also be cautious on the kind of offers you buy into.
Set up a profitable business
To succeed and scale up on eBay, you've got to set up a home business on the platform.
First off, you need to get a business name, obtain a license, and
develop a great business plan
.
Manage your eBay online shop like a regular business
There are a couple of ways to do this. First, you need to have a steady inflow of right products.
Also, you need to have fantastic customer service, deliver the products on time, have adequate financial records, and effectively manage your business inventory.
Take advantage of the eBay Store feature
To maximize revenue and generate more profit from the eBay marketplace, you've got to take advantage of the store feature.
Unlike the regular selling you do with eBay, a store option offers customization features, additional free listings, lower fees, and more benefits.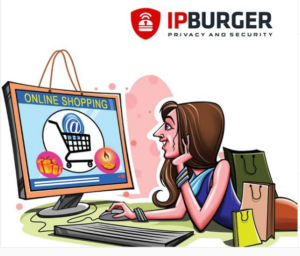 Just like the business world, the eBay marketplace is a cruel environment — it's all about survival of the fittest.
To be fit, you've got to be protected!
If not, you may be a victim of an
unexplained account ban
.
Here's the thing; your eBay account can go off at any moment. To prevent it from happening, you need a VPN — the
IPBurger dedicated fresh VPN
.
The
IPBurger VPN service
doesn't just shield you from an unexplained account ban; it also enables you to create multiple stealth accounts.
This way, you get to replicate high converting product listing without worrying about some
screwed policy
.
What's more, the
IPBurger VPN
offers 100% privacy protection for folks who would love to use other platforms like Amazon, Facebook, PayPal, and Netflix.
The best part…
You get to use it on Windows, Mac, Android, Linux, and iOS devices.
Conclusion — Start a profitable business on eBay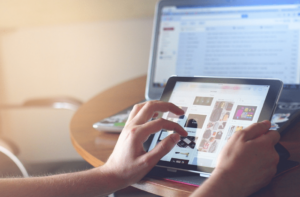 eBay isn't just a regular platform where you get to make quick cash. It's a platform where you can start and grow a profitable business from home.
Just like Jack and Joe, you don't need to be a college graduate to start a profitable business on eBay.
You can begin with your laptop and a couple of old stuff to sell. From there, you get to build and scale-up.
Starting is pretty straightforward — all you need is to familiarize yourself with the platform.
After that, you can scale by picking a profitable niche, effectively manage your store, and use a reliable VPN service like the
IPBurger VPN
.
Now you know how to sell on eBay,
what business niche would you focus on?