Do you remember your search history a decade ago or your Google searches from 2005?
Probably not! But Google does — and that's modern sorcery.
In the ancient world, folks use magical powers to unravel the mysteries of the universe. And if you want to dig into a person's past, all you've got to do is consult a sorcerer who'd dig into the past for you.
With the aid of a powerful sorcerer, all the secret events/actions would be revealed — no one is safe. After all, it would take one powerful sorcerer to expose your dirty linens to the public.
Thanks to civilization, that era of sorcery is over. 
Is it?
Nowadays, everyone has magical powers. With the use of your smartphones, computer, or other internet-enabled devices, you can accomplish anything you want.
This new era comes with a different kind of mystical power — Google!
With Google, you get to search out every piece of information you desire. Life is good, and everyone seems happy.
It's been said that Google knows you better than you know yourself.
How true is that?
100% true! 
Your past and present online activities are stored in a Google server. And if the right button is pushed, you'd get exposed at any time.
Pretty bad! Huh?
That's how Google works… and there's more…
Google comes with surreal opportunities and sacrifices — you get to sacrifice your privacy and be at risk of exposure at any time.
Here's the thing; the cyberspace is not a safe environment — you're at risk of losing your data to prying eyes.
Google, the giant search engine platform stores massive data in their cloud server. 
Whether you're innocently surfing the web, or you're managing an online business, some of your private data are not really private — they can be exposed at any moment.
Yes, you're probably thinking of deleting your browsing history. Right?
No history, no proof, and you're safe! 
That's quite simple, but deleting your browsing history won't cut it.
The thing is; your history only gets deleted on your local computer storage. 
In this day and age, one of the best skills to have is the technical know-how on how to delete your Google history.
Folks who are safe and protected from prying eyes are people who use dedicated fresh VPN.
More on that later…
However, if you're like the regular dude across the street, you've got no online protection, no privacy — you just do your thing on the web and hope for the best.
Well, the best is here, and you can protect your privacy by permanently deleting your Google history.
Here's how it's done…
Download Your Search History
Google allows users to download all their search history.
That is, everything you've ever "googled" in your life can be downloaded into your computer. This feature gives you control over your data — you get to have your data wherever and whenever you want it.
Aside from having the list of all searches you've done on Google's search engine platform, you can also get a full documentation of all the searches you've done within your email account and the searches you've performed in Google maps.
The massive personal data stored in Google server has given rise to lots of security vulnerabilities. 
Therefore, you've got to take control of your internet search history, and of course, your online destiny.
Here's the thing; exporting your data from Google servers seems like a great idea, but before taking actions, you've got to think things through.
Most times, manufacturers and developers come up with insane data export policies for their hardware and software.
In some cases, if the user decides to take a leave from their products/services, they would have to leave their data behind.
That's a pretty bad spot to be in.
Before exporting your data from Google to other third-party platforms, perform relevant researches to ascertain their data export policies.
What's more, if you genuinely want to protect your privacy, but you're not sure if deleting your Google data is the right line of action, then you should consider backing it up.
Yes, backing up your Google data should be a plan B for folks who don't really want to lose their Google data history permanently.
Moving on, here are practical ways of downloading your search history.
Sign in to your Google Account.

Navigate to the Web & App Activity section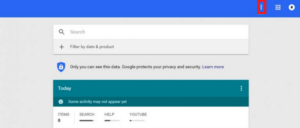 On the drop-down menu, click on the download icon.

When the next page displays, click on the

Create Achieve

icon

As the download begins, you'd be sent an email by Google. You can either view the archive in the take out folder, or you download the zip folder.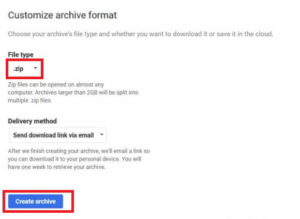 Alternatively, you can download your Google data by:
Clicking on the

Download Your Data page

. When you land on the page, select your most relevant data or the ones you'd love to download.
Usually, all the boxes are ticked by default.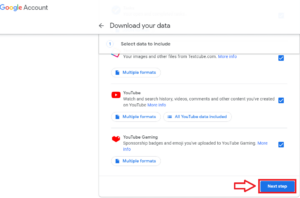 Click on the "Next Step" icon.
You'd have to choose a delivery method and archive format. 
Hint: It's quite preferable to leave it on the default setting.
Next, click on the Create archive icon.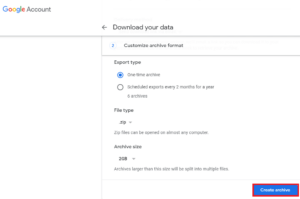 During the archiving process, an email notification would hit your inbox. Sometimes, the email notification would come with a link to the archive download.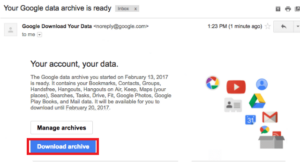 Others, however, may receive an email notification like this…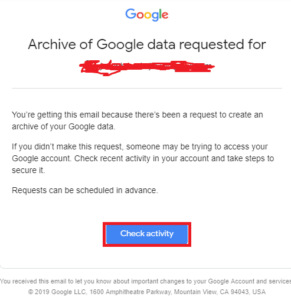 That's it! Your download process is complete; it's now time to delete your Google history.
Deleting your Google will erase all the regular searches, video searches, and other personal data stored in the Google server.
This is a great milestone to complete to regain your privacy on the Internet.
Here are easy steps to delete your Google history.
Sign into your Google account, navigate to the

My Activity page

, click on the vertical ellipsis symbol (⁞), on the drop-down menu, click on

Delete activity by

icon.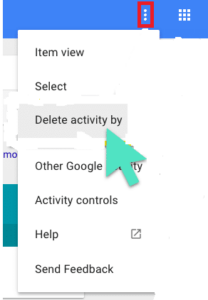 On the next screen that pops up, choose

All Time

to delete your entire Google history. And if you want to delete your data for all the Google products, then select

All products

from the drop-down menu.
Next, click on the Delete icon to erase your history.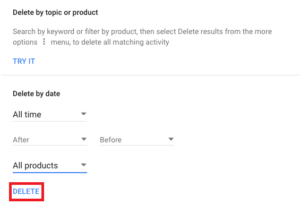 A new screen which showcases how your data is valuable would display. Your next action is quite simple — click OK.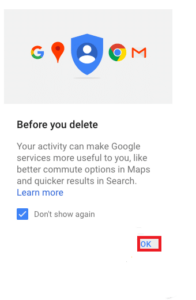 On the next page that pops up, click on

DELETE

.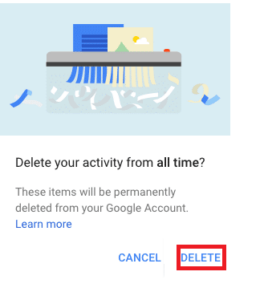 That's it! Your history has been deleted from Google history — maybe it's time to get a cup of coffee for a job well done.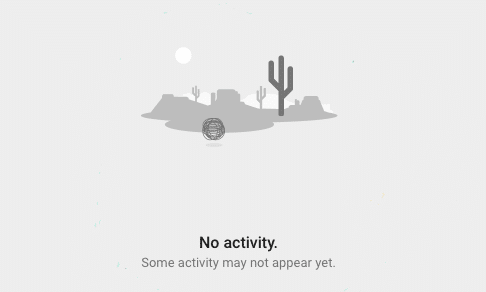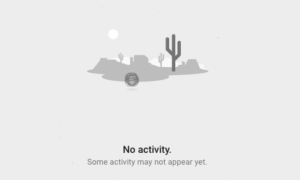 Moving forward, you'd want to stop Google from storing your history.